The brew, however, is not likely to lead to another violence that has made the island province a "no man's land" for many Filipinos, particularly those from Luzon and the Visayas.
With a little help from Kumala S. Elardo, a Sulu princess and chair of the Gender and Development Program of the PCBI, Basilan is hoping to establish itself as a major coffee producer and to finally reclaim as its own coffee beans that are now being marketed as coming from places other than their real place of origin.
Elardo, founder and head of Sulu's People's Alliance for Multi-purpose Progress Cooperative established in 2012, is bringing to Basilan the strategies and techniques for profitable coffee production that are promoting peace and progress in her own province as her provincemates have found that producing one of the world's most popular beverages is a highly sustainable and lucrative livelihood.
Sulu's "coffee project" is credited with helping families raise their incomes and achieve financial stability. The princess worked initially and primarily with women, but the success of her initiative has also encouraged men who have left their homes for more gainful pursuits―often not above board―to just stay home and help tend and manage the coffee plantations, helping promote peace and stability in a province that has been racked by frequent outbreaks of violence.
Elardo is optimistic that what is working so well for Sulu will also work well for the other island province. "There have always been coffee plantations in Basilan," Elardo says, although rubber production is the province's main money-earner. The coffee plantations in the province have been producing the excelsa and arabica varieties.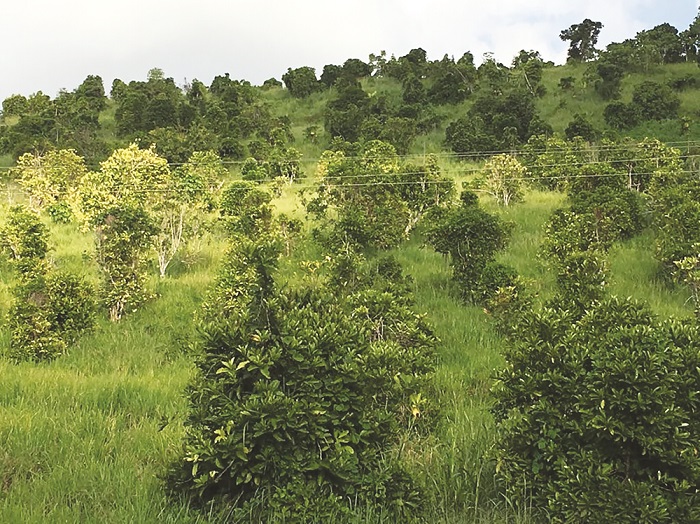 Years of unrest and other problems, however, have lowered the coffee farmers' morale, apparently to the extent that they have not been possessive of their own produce. Elardo says that while Basilan's coffee production has not completely stopped and the coffee is sold in Mindanao's major commercial hubs, like the cities of Zamboanga and Cagayan de Oro (CDO), the bean is not identified with its true place of origin but rather where it is sold. As such, the Basilan coffee that people buy in Zamboanga becomes Zamboanga's coffee, and the same goes for the Basilan coffee bought in CDO.
Elardo hopes not only to help revitalize Basilan's coffee industry but also to expand it and restore the province's pride in its produce. The princess plans to start in Isabela, the former provincial capital, where the current mayor is her niece. Her expansion strategy involves the conversion of coconut plantations to coffee farms. Many farmers had to abandon coconut production following a disease outbreak that destroyed their plants.
About 74 farmers have already signified their interest in going into coffee production, but Elardo wants to work in phases. "The manageable number is 15," she says, for training and technology transfer, but she is actually starting with only 10 farmer-leaders. The smallest farm lot size is 10 hectares.
The enterpise also involves the provision of better planting materials as well as the addition of the liberica coffee variety, which the Basilan farmers are interested in growing.
Elardo also realizes that Basilan's coffee producers need to develop good managerial and marketing skills for their enterprise to succeed. For this, she hopes to organize a new cooperative to replace the old one that is no longer very active. She may also bring up the idea of the whole province giving its produce a single brand to establish a unique and distinctive identity for it. "Basilan Coffee" perhaps?
Just as she relied on the support and assistance of the local governments and the field workers of government agencies for her work in her native Sulu, Elardo is confident that the same partners can be counted on to help make this initiative a success for the advancement of the Basilan and for the achievement of lasting peace in the province.
"We will mobilize all agencies that can be of help," she says. She is already assured of the full support of the province's local governments.
The princess is hopeful that the Basilan project will bear fruit and will help improve the lives of the locals even faster than the similar project in Sulu did, because of Basilan's proximity to an already established and reliable market: Zamboanga City and the rest of the Zamboanga peninsula. Travelling from Basilann to Zamboanga by boat takes only less than an hour, making it easy for the farmers to bring their produce to the Mindanao mainland.
Elardo has the right credentials to make this enterprise for the transformation of Basilan a reality. Her success in Sulu has so far won her Go Negosyo's Outstanding Social Entrepreneur award. She was also named one of the Outstanding Women Entrepreneurs of the ASEAN Women Entrepreneur Network. A director of PCBI, she currently travels around the country as one of PCBI's instructors on "Women in Coffee."
written by Linda Bolido for The Ultimate Coffee Guide, Vol. XII Iss. 2