From the blog Traveler on Foot, published on February 14, 2018
A TRIP TO THE COFFEE SOURCE. I noticed that Kapeng Barako has been out of stock in our neighborhood grocery store since New Year. I wondered what's taking the delay to replenish the grocery shelves with ground coffee. Could be that stores were hoarding their stocks in anticipation of the new tax reform? But I couldn't wait any longer.
The night critters were still chirping in darkness and the air was viciously cold when we left home for a road trip to find freshly ground coffee in Cavite's uplands. A light drizzle peppered the windshield when we passed by Imus. Mists began to disperse over the fields in Silang. Tagaytay began to reveal its ridge with the breathtaking Taal Volcano in the morning light. A few more turns on sloping roads, we arrived in the town of Amadeo.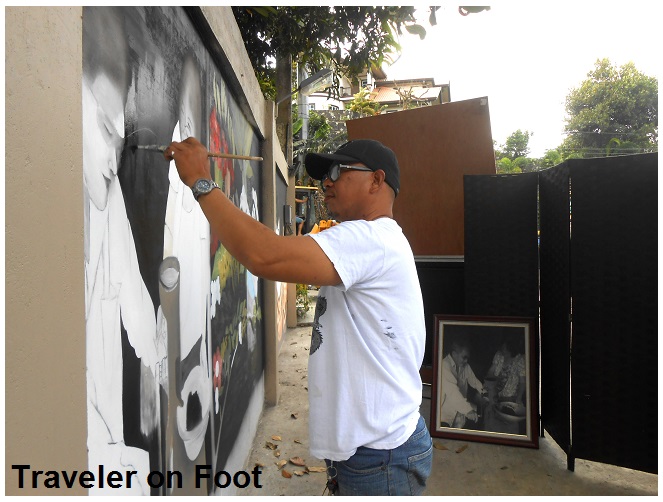 AMADEO, A PRINCELY TOWN. A sign greeted us to the Coffee Town, a fitting welcome title since the town folks of Amadeo has been into coffee farming since the 1880s. Its early settlers found the sloping terrain, volcanic soil, and the all-year round invigorating nip that is often associated with the Christmas season perfect for high altitude crops like coffee.
Amadeo was known as Sitio Masilaw for the abudant dapdap trees in the area that once bloomed with glaring red flowers. It was Governor-General Rafael de Izquierdo who renamed the town as Amadeo in honor of Prince Amadeo Fernando Maria of Savoy, the second son of  the reigning Spanish monarch of that time. During the Philippine Revolution, the town was given a sobriquet as May Pagibig.
ECHOFARM. From Amadeo's town proper, we were led to ECHOfarm, a vast plantation that practices and promotes sustainable living through organic farming. The farmers here apply vermicasting into their farming method to produce vegetables and crops that are safe and healthy to eat because they are free from harmful chemicals and pesticide residues.
The sprawling ECHOfarm is owned by Chit Juan and has been supplying organically-grown produce to the popular ECHOstore.
KAPENG BARAKO ORCHARD. In between a pineapple plantation and the organic farm is a kapeng barako orchard. Lipa in Batangas has been traditionally known for farming liberica coffee beans and historically famous from the years 1886 to 1888 as the world's only supplier of coffee. During that period, this Batangas town became a national sensation for its wealth and the envy of other towns in the country. The liberica coffee bean variety got its local name as barako because it was said that wild boars were found by coffee farmers eating the beans from its tree.
Harvesting coffee beans at the EchoFarm is part of the manual labor of its farmers. Ernesto Sales with wife Marvic showed us how freshly picked liberica beans are sorted and dried under the sun. Liberica is the biggest of all the coffee bean varieties and can take up to 40 days to dry under the sun because of its very thick pulp. EchoFarm exclusively grows liberica beans. Traditionally, Amadeo has been growing the arabica variety locally called Kapeng Tagalog.
PAHIMIS BLEND. From the EchoFarm, we were brought to Cafe Amadeo for a morning snack and to observe the coffee roasting method. Cafe Amadeo produces the pahimis blend, a combination of arabica, excelsa and robusta varieties that are all grown in coffee farms of Amadeo.
Guided by the aroma of roasting coffee, we followed the trail into the factory where dried and de-stoned coffee beans are roasted, poured into the grinder, packed and sealed as Cafe Amadeo's Pahimis Blend.

EPILOGUE: THANK GOD FOR COFFEE.  I had my first taste of coffee at age eight. It was with pad de sal soaked in coffee. Fifteen years later, living by myself, ground kapeng barako beans has become part of the grocery list.
The smell of freshly brewed coffee has become the signature aroma for our home. I like serving coffee when friends come by. I like drinking coffee while having a conversation and when writing. When the caffeine wears off, it's easy to brew another pot of unlimited happiness we got straight from a coffee farm. Thank God for coffee.